Glamping in Yamahoshi. You will feel nature is closer.A large, semi-spherical glamping tent where you can spend time in a spacious space and relaxing environment.
Type
Large hemispherical glamping dome tents
Number of rooms
4 rooms (glampA to glampD)
Size
53.32 square meters (32 tatami mats)
Capacity

glampA, D: 6 persons
glampB, C: 8 persons

Number of beds

glampA, D: 6 semi-double beds
glampB, C: 4 double beds

Facilities
Internet connection (wireless LAN), hot water pot, refrigeratorrefrigerator, water server, hair dryer, individual air-conditioning
Amenities
toothbrush set, razor, towel
Pets friendly
glampB, glampC
Facility
Four double beds are available in glamp B and C. You can also bring your pets to stay with you, so each member of your family can spend time together in comfort.

Once you step inside the dome, you will find yourself in a different world of luxury.

Each tent is fully equipped with a variety of facilitiesThe tents are fully equipped with all the amenities you need to enjoy the outdoors.

Please spend a pleasant time with a lot of people.

The four dome tents along the Achi River that remind you of the near future.
The four futuristic-looking dome tents along the Achi River are the landmark of glamp YAMABOSHI.

The tents on the river side offer a panoramic view of the Achi River and the national highway beyond.

In spring, you can enjoy the peach blossoms all over the area.The view from the mountain-side tents is like a secret base in the forest, where you feel at one with the green scenery.

A fire area is available near the glamping dome. You can make a bonfire in the great outdoors.
Dinner
〜Dinner is served until 9:00 p.m.
The barbecue garden near the glamping dome is available for your use.Beef and local vegetables grilled on skewers, pot-au-feu cooked in a Dutch oven, a seafood paella with a diameter of 60 cm, and various other dishes.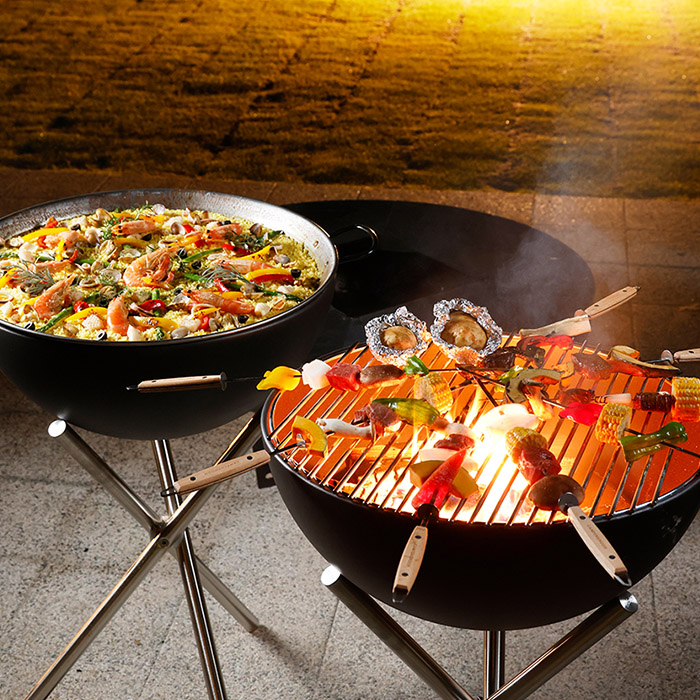 Breakfast
7:00 a.m - 9:00 a.m
We will ask you about your preferred start time when you check in.(Last start at 9:00 am)
A breakfast set in a wooden box will be delivered to the glamping dome.Fresh bakery items, salads and assorted fruits and local vegetables, and drinkable yogurt made from milk produced in the Southern Alps.